Red Door Real Estate News
Welcome to the Red Door Real Estate blog where we provide real estate news, real estate market reports and local information of all kinds!
"Out with the old, in with the new" is a phrase we have all heard before. So, in what cases does it apply? It can be a bit tricky in terms of homes, as fads and trends come and go and some people do in fact enjoy the retro or old-fashioned look inside or outside of their homes. However, when you are trying to establish a real estate listing and put your house on the market, it is important to take into consideration how prospective buyers might view your home and what assumptions they might make. Outdated features in anything from the bathroom to the kitchen may cause viewers to question what other features in the home may be old, worn down or less functionable. Homes with fads still present from the 80s or 90s are especially important to consider, and below are seven features that were recently proposed to home sellers as suggested areas to update or improve upon before initiating the listing process.
1. Dense floral wallpapers and fabrics
2. Wallpaper borders
3. Overwhelming pattern and texture
4. Brass hardware
5. Overstuffed furniture
6. Wall-to-wall mirrors
7. Carpet in the bathroom
All of these points certainly have different characteristics and variables to consider. One of the main concerns is that older designs and items may wear out or fade (such as wallpaper or even the surface of brass hardware). It is also suggested in this case that "less is more," and overwhelming a room with furniture, mirrors, etc. may cause it to look cluttered and smaller than it truly is. A less stuffy room also allows for the potential new buyers to really envision what they themselves could do with the space to transform it into something of their own.
As a real estate company, we want nothing but a smooth and successful buying or selling process for you and your home. These tips are ones that can be helpful during the preparation of placing your home on the market and could possibly even assit in a quicker purchase of your home once it is listed.
What do our current home prices look like in the year 2013 when we compare them back to 2005 when it hit its peak? A recent article presented numbers for the median prices of numerous Eastern Massachusetts communities where the first ninth months of 2013 surpassed those of the year 2005. Overall, in the real estate business we are still seeing the housing market below the peak levels that were reached in 2005. It is, however, reassuring to see progress in some areas of Massachusetts. This article also inspired us to look at our hometown of Quincy, MA and compare information from 2005 to the current year, which you are able to view below.
2005
Single Family Homes:
Total sold: 499
Average Price: $378,000
Average Days on Market: 77
2005 Condos:
Total Sold: 661
Average Sale Price: $292,900
Average Days on Market: 51
2013
Total Single Family Sold Stats:
Total Sold as of 10/21: 407
Average Sale Price: $361,000 (DOWN 4.49%)
Average Days on Market: 67
Total Condo Sold Stats:
Total Sold as of 10/21: 329
Average Sale Price: $275,000 (DOWN 6.11%)
Average Days on Market: 59
Red Door Real Estate strives to always provide the most important and beneficial information to our clients regarding any and all real estate market news, reports and important changes. We understand that buying a house or other residential property is often the most crucial and important purchase a person will make. While many Americans feel confident in their understanding of the house buying process and the obligations that come with the real estate territory, there are several points that we in the biz (and pointed out in a recent article) feel are essential for each and every homebuyer to know. We encourage you to check out these facts below and to contact us for any additional questions or for assistance in your home selling or buying process.
Buying your home actually means that you are making two purchases: The home and the money to pay for the home. Making your loan or mortgage payment every month is a crucial responsibility in the home buying process, so be sure to search around for the best deal and take advantage of low rates.
Homes, like people, all have problems: While some certainly have much more than others, every real estate property has or will have an issue. This should not be discouraging, but many people realize this after a home inspection report is received. It is important to find a reliable and professional home inspector, as it is better to be aware of any issue now that could potentially become larger in the future if it is overlooked.
Do not think of your real estate agent as a salesperson, but rather as your partner in the home buying process: As a real estate company, our main objective is to find the best home for you and your family. It is essential in the beginning on the real estate process that an agent and the client come to a clear understanding of each other's expectations, needs and goals. The better the relationship, the more successful the home buying or selling process will be.
HGTV does not reflect the real world of real estate: While the reality shows for the buying, design and decorating processes of homes are entertaining, they can also give potential buyers a false hope of how easy it all comes. You can in fact learn a great deal from these shows, but it is also important to remember that this is hours and hours of footage combined into a small segment; these processes take time, and with patience (and responsible spending) you too can have similar results.
Don't forget about the resale: While you are obviously more focused on finding the perfect house for sale and buying that property, you should also keep in mind the fact that eventually one day you will want to resell your home. It is for this reason that LOCATION becomes extremely important, as well as the evaluation of how much work and money you are willing to put into the property to make it the most valuable it can be.
Uncle Sam Rounseville, featured with his wife Jean Kenney, feels at home at Quincy MA's flag day parade, held last Saturday. Quincy's Flag Day parade started over 60 years ago is America's longest running parade of its kind.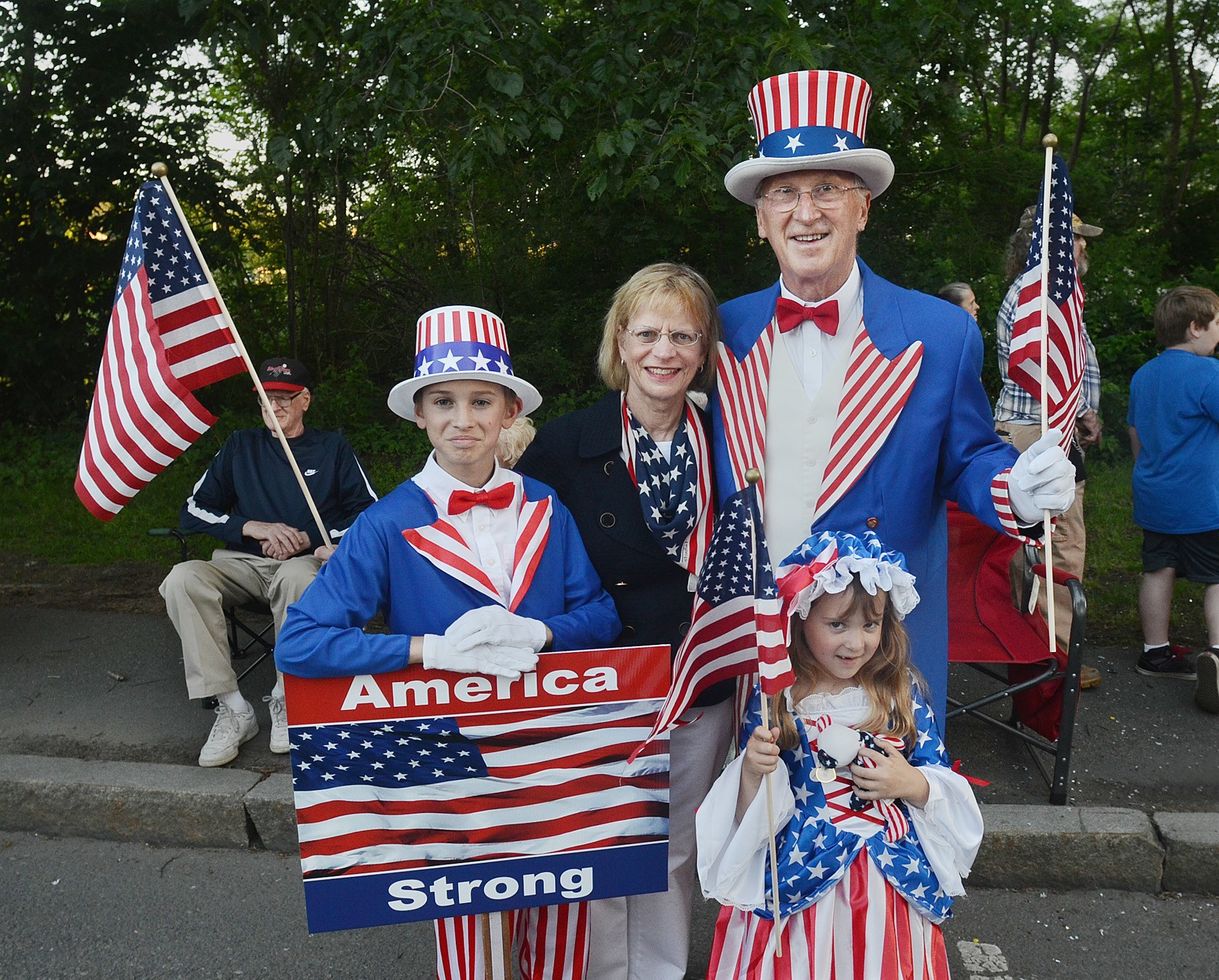 Quincy is not only the Birthplace of the American Dream or the City of Presidents it is also the birthplace of Uncle Sam, Uncle Sam Rounseville that is!
When buying a home, having a home inspection is the most important step to ensure you are making a good decision. A licensed home inspector will thoroughly inspect the home for any potential maintenance issues and most importantly hidden defects. It seems like common sense but you would be surprised how many home buyers do not pay attention during the inspection. We suggest walking around with the inspector as he evaluates the property. Ask questions. Take notes. This is your one chance to get to know the ins and outs of your new home.
Read on for more tips from Fox Business - How to get the most value from your home inspection