Red Door Real Estate News
Welcome to the Red Door Real Estate blog where we provide real estate news, real estate market reports and local information of all kinds!
Local real estate agent Sam Rounseville to appear on Chronicle, focusing on Quincy.
Quincy is set to be the focus of an upcoming segment on Chronicle. Red Door Real Estate agent Sam Rounseville was chosen to appear on the segment and talk about the real estate market in Quincy. A camera crew came to Red Door's Sea Street office to interview Sam on the local market before shooting on location in Houghs Neck, Squantum and Marina Bay. With Sam being such a prominent figure in Quincy it only made sense to have him as a part of the show. Sam talked about his career in real estate but also about his career as Uncle Sam Rounseville.
Since Quincy is blessed with some of the most beautiful coastlines on the South Shore, Sam focused on waterfront properties. The interview includes information on the average sale price of a home in Quincy versus the sale price of a home on the water. In 2012 the average price of a single family home in Quincy was $328,000 up from $315,000 in 2011. In Houghs Neck, home buyers may be able to get a little more for their money; the average single family home runs about $267,000. For home buyers looking for waterfront property they can expect to pay closer to $385,000, which is 40% higher than homes not on the water. On the other end of the price range is Squantum where home buyers can expect to pay upwards of $510,000 for a waterfront property.
The Chronicle segment will air on WCVB Channel 5 on Jan 31st at 7:30pm. Viewers will be able to get a glimpse into the local real estate market as well as all that Quincy has to offer including the downtown redevelopment and local attractions.
To reach Sam Rounseville call (617) 875-1776 or email him at USSam76@gmail.com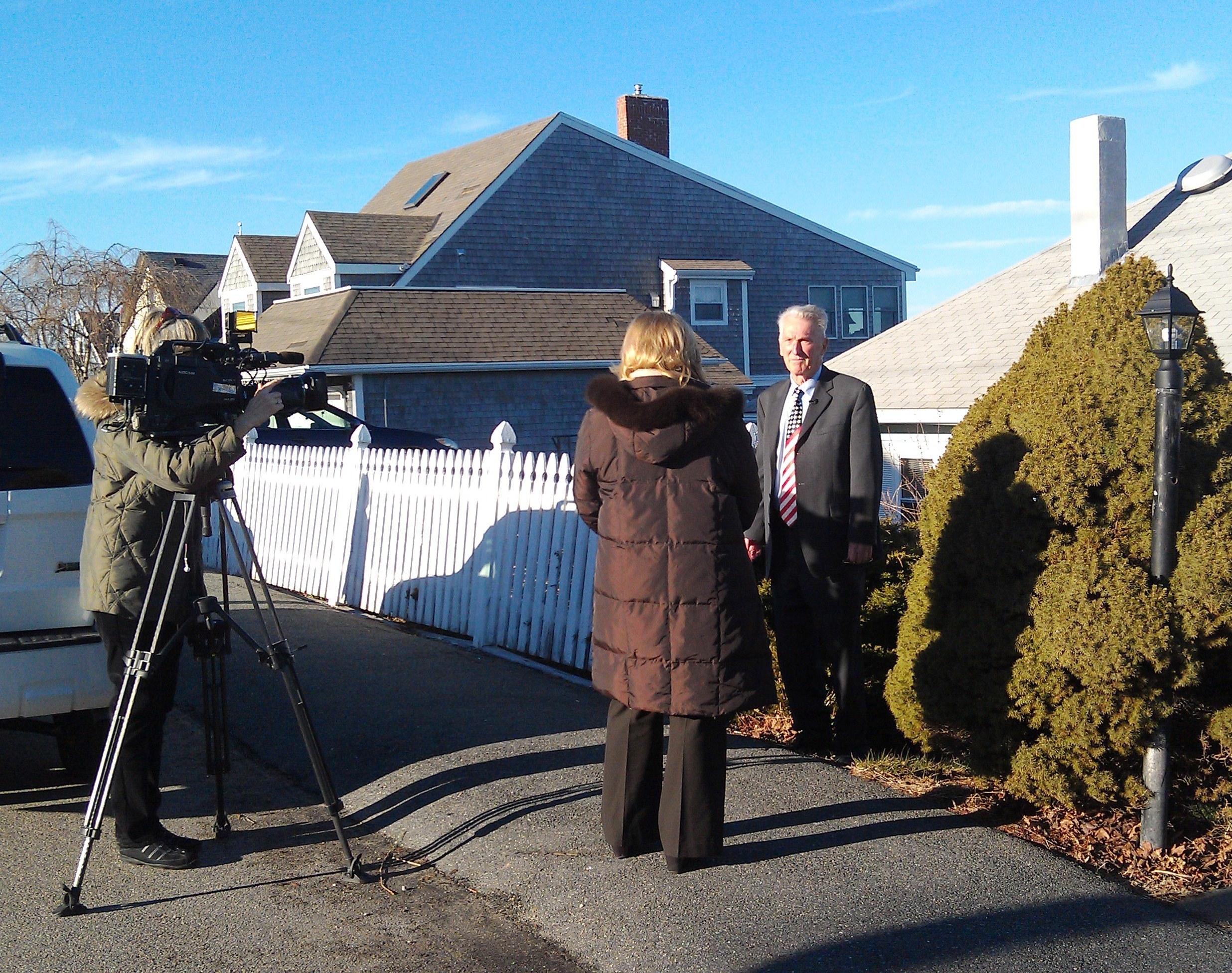 Red Door Real Estate Hosts Broker Breakfast with Guest Speaker Mayor Tom Koch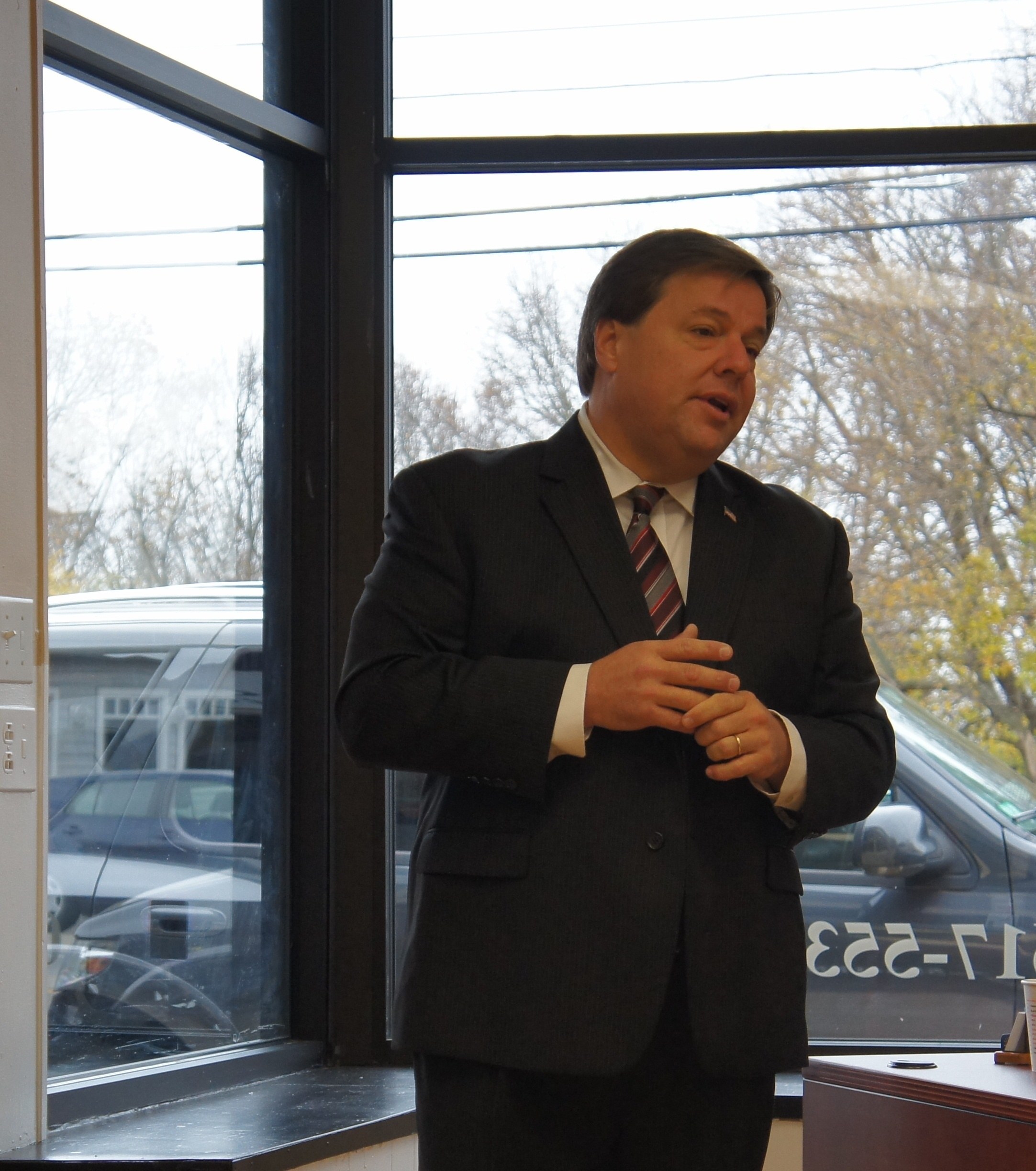 Quincy's Mayor Tom Koch was invited to Red Door Real Estate today to speak to local real estate agents on the revitalization projects taking place in Quincy as well as the development of the New Quincy Center. With so much attention on the redevelopment of downtown, Mayor Koch thought it was important to also inform local real estate agents of additional projects helping to revitalize our city; like the new track at Faxon Field, which may be overlooked.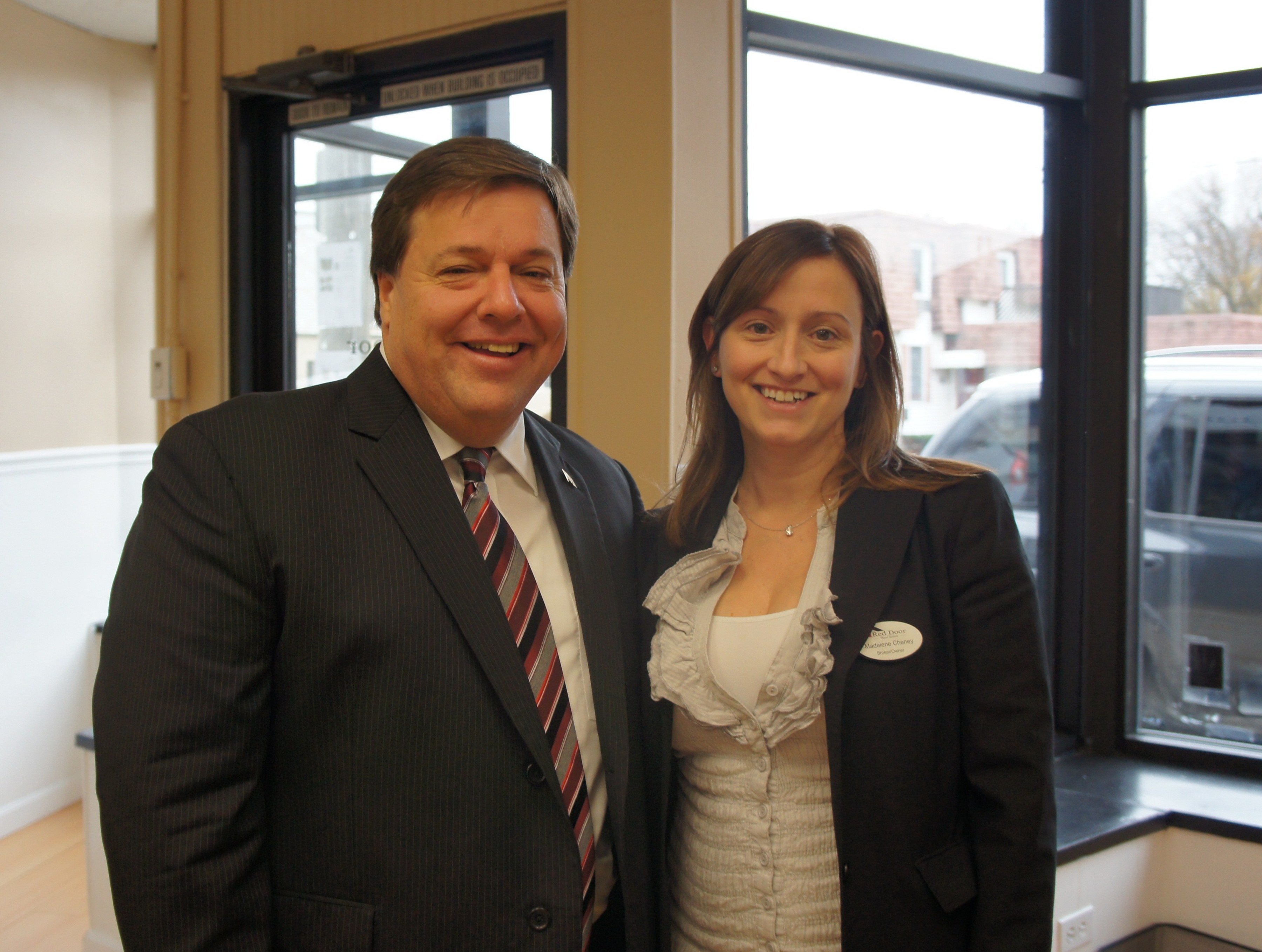 The event, a monthly broker tour for local real estate agents was hosted by Red Door Real Estate and attended by over 25 agents. Madelene Cheney, owner of Red Door Real Estate thought Mayor Koch would be the perfect speaker for the event. "Real estate agents are a key part of the task force promoting our city. Educating local real estate agents on the various projects currently taking place in our city will create an excitement that can be expressed to home buyers," states Cheney. During his presentation Mayor Koch gave homage to his predecessors and the contributions they made to the city, which have helped lay the ground work for the various revitalization projects taking place today. "Quincy has been a sleeping giant for a long time," stated Koch. "It is now our time to shine."
The City of Quincy MA Planning Department has put together a green initiative to help make it easy for citizens to go green and do their part to live a more sustainable life. By going green citizens can save money and help the environment at the same time. The initiative includes a plan outlining resources on energy saving ideas, tax credits and instructions on composting. With simple changes resident can save decrease their impact on the environment. Some suggestions include:
Turning adjusting your heating/cooling thermostat 2 degrees, which can save you close to $100 a year in energy costs.
Replacing light bulbs with compact fluorescent blubs
Shut off your computer when not in use, and save 200 lbs of C02. You can also conserve energy by using your computer's "sleep mode" instead of a screensaver
Another big push that Quincy MA has done to encourage home owners to go green is implementing the citywide single stream recycling program. Under this system, residents place all recyclables into one large barrel, bin, or other container (the old blue recycling bins may be used) with no separation of paper, plastic, metal, or glass.
For more information on how you can help your environment visit the Quincy Citizens Green Guide website.
Quincy MA homeowners are to be made aware that the Board of Assessors is currently in the process of inspecting properties throughout the City of Quincy MA. The inspections will help the city to reassess homes for tax purposes. Data collectors will be re-measuring houses and cross referencing the information to the data currently listed in public record. Data collectors may ask the home owner to come inside the house to do an internal inspection of the home as well. Data collectors will have a letter of introduction and a picture ID. If the home owner does not wish to have the inspector enter the home at that time the home owner can call the city to set up another time for the inspection.
The accuracy of the assessed value of a home is a constant question among home owners and home buyers. These inspections may help provide a more accurate assessed value of the home. Although the market value of a home may still vary from the assessed value this may help bridge the gap. Many home buyers question the assessed value of a home. In some cases the assessed value is much lower than the market price of the home. When this occurs, a homebuyer may hesitate to purchase a home thinking that the assessed value is the true value of a home; not understanding that the two values are independent and bear little weight on each other. Some homeowners may see an increase in their assessed value, which in turn may result in higher property taxes. This can occur if the home has previously expanded or upgraded the home without the knowledge of the city. It will be interesting to see the reaction of homeowners throughout the city of Quincy.
For more information visit the City of Quincy MA website.
Open Meeting for Houghs Neck Community Council featuring Register William O'Donnell Guest Speaker
Norfolk County Register of Deeds William P. O'Donnell has been invited to speak to the members and guests at an open meeting for the Houghs Neck Community Council on Tuesday evening, May 15, 2012 at 7:00PM. The meeting will be held at the Houghs Neck Community Center, 1193 Sea Street Quincy. Refreshments will be provided by Red Door Real Estate during the event. Everyone is welcomed and encouraged to attend.
The short speaking program will touch on the historical nature of the Registry and the Register's efforts to modernize and computerize the vast number of Norfolk County real estate records. The Register will also speak about the Massachusetts Homestead Act as well as other Registry related matters. The Massachusetts Homestead Act offers protection to homeowners against the value of their home should the homeowner be sued for any reason. Once a declaration of homestead is filed creditors cannot take a home to satisfy debts up to the amount set by law. The Register will be able to provide homeowners with Homestead declaration forms during the meeting.
Following his remarks, the Register will be available to answer individual questions. A computer and printer will be available to access an individuals real estate records should attendees wish to confirm the status of a mortgage discharge, get of copy of a recorded deed or check on any other filing. Although the Register and members of his staff cannot provide legal advice, they can provide answers to basic questions, give general information and assist in showing residents how the free public access computers work.
The Norfolk County Registry of Deeds, located at 649 High Street, Dedham, is the principal office for real property in Norfolk County. The Registry is the basic resource for homeowners, title examiners, mortgage lenders, municipalities and others with a need for secure, accurate, accessible land record information. The Registry land records back to the founding of Norfolk County in 1793 are available for online viewing. The Registry's online index is available from 1900 forward and continues to expand to include earlier records. For questions or information on this event please contact Madelene Cheney of Red Door Real Estate at (617) 894-1124 or visit http://www.reddoor-re.com