Red Door Real Estate News
Welcome to the Red Door Real Estate blog where we provide real estate news, real estate market reports and local information of all kinds!
Through the Red Door Real Estate town pages you can easily learn about towns and neighborhoods you may be interested in. Each town page has a brief overview of the area as well as a complete property search of homes for sale in that specific area. This IDX search feed, which pulls homes for sale directly from the Massachusetts MLS, is updated constantly providing the most up to date information on homes available in that area. The town pages are broken down in a number of ways such as by:
Zip code:
Area:
Please come back and search our town pages often. For more information check out the Red Door Real Estate website –
http://www.reddoor-re.com
Red Hot Real Estate Report:
The unfiltered truth about the Quincy MA real estate market
We survived another roller coaster year for real estate here in Quincy. 2011 was a stepping stone toward the recovery of our local economy and was a great learning experience for homeowners. Despite low interest rates and competitive home prices consumer confidence remained low. So the big question remains, "Are homes selling?" Homes are selling, although they may not be selling as fast as they use to or for the price that most homeowners wish they could get for their home. In 2011, the average number of days a home was on the market was 123 days, up from 95 days in 2010. Looking forward, homeowners should be prepared that their home may take 4 months to sell. This is a key aspect to consider when deciding on the right time to list a home on the market. The spring market still tends to be one of the strongest for buyer activity with the highest percentage of closings taking place in May and June. If the market time of a home is 4 months and the average closing takes 30-45 days, homeowners are urged to list their home in late January early February to expect a closing in May or June. Homes that are priced right and show well will definitely sell the quickest; however this formula is a good starting point for timing a home sale.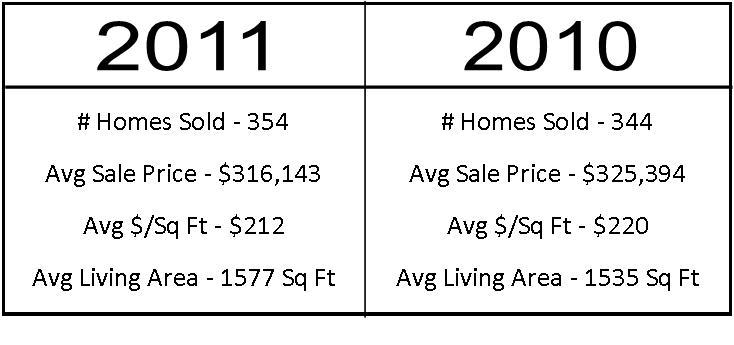 So how does 2011 compare? The average single family home in Quincy had a sale price of $316,143, which is a 3% decrease from 2010 (Average Sale Price in 2010 - $325,394). In 2011, 24% of the single family homes sold were in the price range of $250,000 - $299,999. Coming in second was the $300,000 - $349,000 price range at 20% of the homes sold. Quincy did experience an increase in the number of transactions in 2011, which is a good sign that more buyers are entering the market.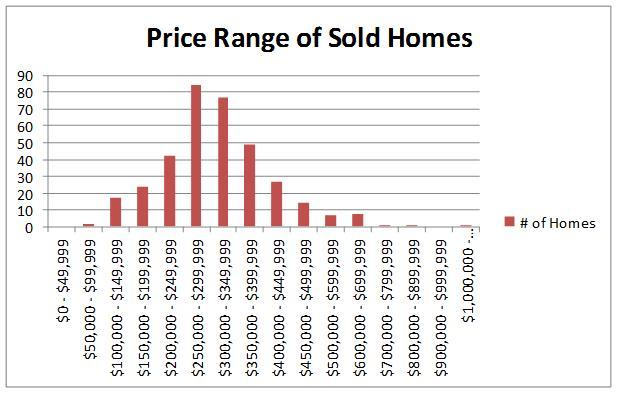 "One of the biggest trends we experienced in 2011 was that buyers were less interested in homes that require a great deal of work," states Madelene Cheney, Broker/Owner of Red Door Real Estate. "To compete with lower priced bank owned properties homeowners should put their best foot forward and prepare their home for sale by making minor repairs or reducing clutter prior to listing their home on the market." The market is flooded with many bank owned properties that are in poor condition. The average homebuyer is looking for a home that is priced competitively but is still in "move in" condition. Taking a proactive approach, Red Door Real Estate started offering home staging consultations for their clients to help prepare their home for sale.
Red Door Real Estate is a locally owned and operated real estate company located at 222 Sea Street, Quincy, MA. For more detailed information on home prices in your specific neighborhood contact Red Door Real Estate at (617) 553-1880 or visit us at www.RedDoor-RE.com.
For more informationon home staging or to set up your consultation check out our
home staging page.
After weeks of looking at properties for sale you identified one that you would like to buy. In general, buying a home can be an emotional experience; however taking that first step and putting in an offer to purchase can be intense. As you sit down with you real estate agent to fill out the paper work your heart starts racing; your goal of homeownership is now within reach. Once the paper work is signed the waiting game begins… The ball is now in the seller's court so you await their response and for some the wait can be agonizing. Don't worry the sellers are not trying to torture you by not getting back to you immediately. So what is going on behind the scenes?
Once the offer paper work is complete your agent will contact the listing agent to inform them that an offer will be coming to them either by fax, email or in person. In some cases the listing agent will discuss the terms of the offer with your agent prior to seeing the paper work to get the process started. Once the listing agent has the offer and the terms clearly understood they will need to discuss the offer with the seller. In most cases the sellers cannot be reached immediately due to conflicting schedules. In the event that the seller is a couple, both parties would need to go over the offer together before making a decision, which may take some time to coordinate.
Once the seller gets word that an offer has been submitted their excitement and anticipation level increases. Keep in mind that selling a home is just as emotional as buying a home, if not more emotional. The seller's initial reaction to the offer is usually that the offer could be better, especially if it the first offer the sellers have received on the home. It is proven time and time that The First Offer is The Best Offer. No matter how strong the offer it is difficult to convince the seller that holding out for a better offer may be detrimental to the sale of their home. Now, I cannot blame a seller for feeling this way… we wouldn't have 100+ TV channels to flip though in hopes to find "something better" to watch if this wasn't the case in life.
Understandably the seller may need some time to ponder the offer and crunch some numbers before coming back with a response. Their response may be a counter-offer (may state that the seller has accepted the buyers offer but with some additional terms proposed by the seller) a rejection or an acceptance of the offer. A counter-offer can include adjustments to the price, changing the closing date or removing certain contingencies written on the offer. If the offer is accepted on the first shot that is great news! You can now start scheduling your home inspection and enlisting the help of an attorney to review the purchase and sales contract. If your offer is not accepted and is either rejected or countered, this is not an indication that the seller is being difficult. Put yourself in their shoes for a moment. Imagine selling the home you raised your family in or the home you shared so many memories in. When selling a home it is natural to feel that a part of that may be lost once the home is gone. Keep in mind that this is an emotional process for both parties and try your best to come to a compromise.
The holidays are coming to an end and so all the decorations will eventually be taken down and stashed away for next year. To help keep collection of Christmas trees under control the each individual city has their own policy on tree pick up.
Quincy MA -Christmas trees will be collected curbside during the week of January 9 through 13, on your regular trash day. Please remove all tree decorations. Please DO NOT wrap trees in plastic bags.
Milton MA - Christmas trees and wreaths will be collection on January 17-21, 2012. This is MLK weekend so normal collections will be delayed one day.
Braintree MA - Christmas trees will be collected curbside on your regular trash day the weeks of January 9 & 16 only. After that please drop off at 225 Plain St. Compost Site. Open: April 1-January 31: Wednesday - Sunday 7:30 AM-12:30PM &1:00- 3:00 PM
Weymouth MA - The town website was not too clear on when trees would be picked up; however they will also take the trees if left curbside and unbagged.
Boston MA - First Two FULL Weeks in January. Public Works will collect Christmas trees for composting from January 2 to January 13. Remove all ornaments, decorations, and stands from trees and place trees at the curb by 7AM on your recycling day. Do not put trees in plastic bags
Looking to repair a kitchen countertop? Maybe you are just tired of the current look of your kitchen countertops and want a change in décor. There are some inexpensive options that can help spruce up your kitchen countertop, especially if you are looking to do the work yourself.
Countertops are very important to your kitchen. They are just as useful as they are decorative. Once your countertops start to fade the overall look and functionality of your kitchen can suffer. Some home improvement stores sell an acrylic paint that is made to resurface your countertops. Although I don't personally have any experience with using this product, this is probably the most cost effective solution. Acrylic paint is the best type of paint for laminate countertops. Another option would be to tile right over your laminate. With the new trend leaning toward stainless steel another option is to add a stainless steel look coating over your current countertop or even wood.
Granite countertops are expensive to install; however you can repair your granite counter mishaps with little money. One of the biggest complaints with granite is that it can stain. Oil, wine and bleach are among the biggest culprits of granite stains. A paste made of hydrogen peroxide and flour helps to pull out stains like grease, bleach and ink. To remove wine stains a mixture of bleach and flour will do.