Houghs Neck Real Estate Market Report for 2018
Posted by Madelene Cheney on Wednesday, March 13, 2019 at 9:47 PM
By Madelene Cheney / March 13, 2019
Comment
What was 2018 like for home sale in Houghs Neck Quincy MA
2018 was another record setting year for real estate in Quincy MA as well as real estate in Hoighs Neck Quincy MA. Much like 2017, single family homes, as well as condos throughout the city were selling like hot cakes, and Houghs Neck was no different. The average single family home in Houghs Neck sold for $416,000, which is slightly higher than the average home sale in Germantown ($392,000) and Adams Shore ($400,000).
But it wasn't all good for real estate in Houghs Neck. 2018 was, in some ways, a very trying year for our beloved neighborhood. With the massive Nor'ester in March 2018, property values were affected slightly and home buyer confidence in coastal areas did decrease as well. However, low housing inventory throughout the city helped boost homebuyer confidence in Houghs Neck before year end. Many homebuyers continue to be attracted to this area due to the lower price of ocean front homes (as compared to other parts of Quincy MA and surrounding cities).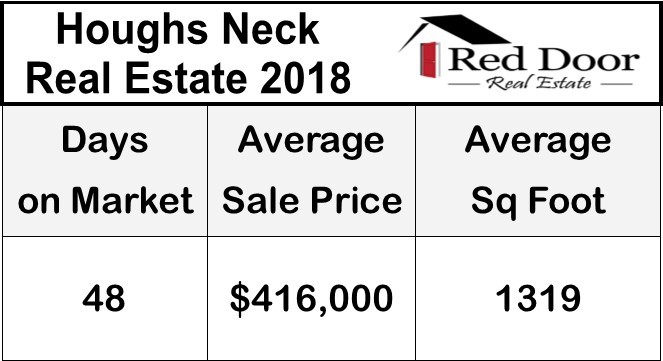 "While there has been some talk of a slight downturn in the real estate market in 2019, with everything that Houghs Neck has to offer we can only remain confident that things will continue to look up," states Madelene Cheney Broker/Owner of Red Door Real Estate located at 222 Sea Street. Sea Street is the main corridor leading to the Houghs Neck section of Quincy. Red Door has close ties to Houghs Neck with more than half of our agents either living in Houghs Neck or "grew up" in Houghs Neck . Learn more about Red Door agents and how we can help sell your Houghs Neck home.
Houghs Neck is one of the most unique neigbohoods in Quincy Ma. Check out the Houghs Neck Community Page to learn more about the area and view homes for sale in Houghs Neck.